Three- or four thumb coupling 3TC and 4TC
1) Characteristics
• simple construction
• join co-axis shafts of driving systems
• decrease the dynamic pressures during the working process
• compensate errors during the manufacturing and assembly process
• the half couplings are made from steels and aluminum alloys of high quality,
• the elastic element is made from oilproof vulakanizate of high quality.
2.) Diagram of the basic dimensions.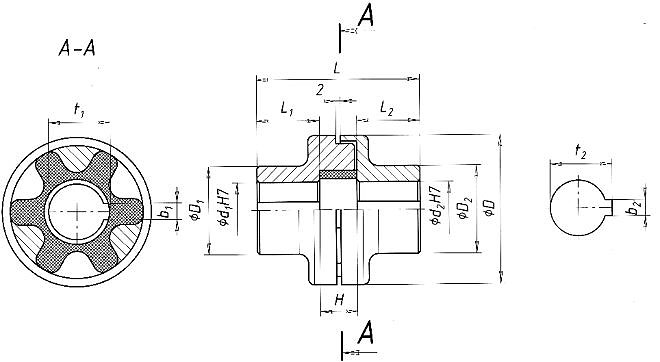 3. Dimensional and joining sizes
Type

Nominal moment Мн [Mn]

d1 max [mm]

d2

L [mm]

L1 [mm]

L2 [mm]

H [mm]

D1 [mm]

D2 [mm]

D [mm]

Маса [mm]

min [mm]

max [mm]

С3П 160.71

2.5

14

11

14

55

20

19

16

30

30

48

0.14

С3П 160.80

3.75

19

11

19

76

41

19

16

38

30

48

0.23

С3П 200.71

2.5

14

11

19

60

22

22

16

30

30

48

0.15

С3П 200.80

3.75

19

14

19

80

37

27

16

38

30

48

0.21

С4П 200.90

7.45

24

14

24

80

41.5

20.5

18

48

34

65

0.32

С4П 250.80

3.75

19

16

19

80

41.5

20.5

18

42

34

65

0.27

С4П 250.90

7.45

24

16

24

80

41.5

20.5

18

48

34

65

0.32

С4П 250.100

15.56

28

16

28

90

51.5

20.5

18

58

34

65

0.44

С4П 315.90

7.45

24

19

24

90

51.5

20.5

18

48

42

65

0.33

С4П 315.100

15.56

28

19

28

90

51.5

20.5

18

58

42

65

0.45